This is a very tasty & nutritious sambal, that serves as a relish or sauce. When combined with cucumber or carrots there is a crunch as well. It is often served as a side with spicy food. It is cool, soothing & very delicious.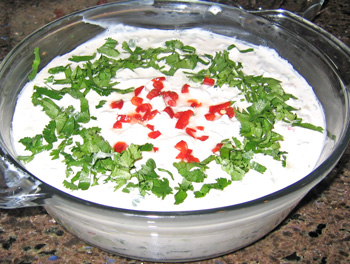 Yogurt or Raita, spiced and ready to serve as a delicious side to meals
Ingredients
2 cups of plain yogurt or buttermilk
½ a cucumber
2 tsps. oil
½ cup chopped onion
½ tsp. of ginger
½teaspoon mustard seeds
a pinch of sugar
¼tsp. cumin powder
1 small green chili (optional)
Method
Peel and chop cucumber into small cubes
Chop onion, chili, and ginger
Heat oil and add mustard seeds
Cover with lid as seeds will splutter
Immediately add the onion, ginger and chili and saute for about a minute. Make sure it does not burn
Remove from pot and add this mixture to the yogurt. Add salt and sugar to taste
---
If you have any questions or would like to add a recipe of your own, email me, Nirmala, at


I will be happy to help in any way I can. The site will be regularly updated with tasty recipes and hints and tips. You can also reach me at Contact
Now quickly and easily navigate to your next destination.
---